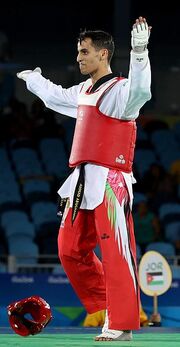 Ahmad Abughaush is a Jordanian taekwondo athlete. He won the gold medal in the 68 kg category at the 2016 Olympics. This was Jordan's first Olympic medal in any sport, excluding a bronze in 1988 when taekwondo was a demonstration sport.
Abughaush was born in Amman, Jordan. His father is of Palestinian descent, his grandparents having been relocated from the town of Abu Ghosh to Jordan decades earlier.
Abughaush competed at the 2016 Summer Olympics in Rio de Janeiro, in the men's 68 kg, where he won the gold medal, defeating Alexey Denisenko from Russia. This was Jordan's first ever Olympic medal. Abughaush told the press "it's an indescribable feeling to win the first medal in the history of Jordan in all the sports" and said "it's also a great feeling to listen to the national anthem of Jordan being played in Rio in front of the whole world."
In an interview with Ro'ya TV, Abughaush's parents said that "Ahmad's accomplishment is an honour to Jordan". They went on to thank the Jordan Olympic Committee and the Jordanian Royal family for their support, namely King Abdullah II, Crown Prince Hussein and Prince Ali. King Abdullah and Prince Hussein personally called Abughaush to congratulate him on his accomplishment, while Prince Ali, who is well known for sponsoring sports in Jordan, had also personally supported Abughaush's path to the Olympics.
Community content is available under
CC-BY-SA
unless otherwise noted.