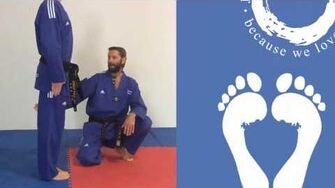 In Attention Stance (also called cheryeot seogi) the legs are straight and touching each other.
In ITF Taekwondo, the feet have a 45 degree angle between them
In WTF Taekwondo, both feet are pointed straight forward, heels and toes touching.
The arms are straight and held stiffly to the side (with a very slight bend at the elbows). The fists are clenched slightly. Eyes face the front looking slightly above the horizon. This is the stance used for all bows.
References
Edit