On June 23rd 2017 the Kukkiwon and World Taekwondo announced the development of three new poomsae to be added to the current classic poomsae in competitions during the [World Taekwondo | WT] General Assembly in Muju, Korea. [1] [2]
Bee-gak Il Jang will be added to the Cadet (age 12-14), Junior (age 15-17) and Under 30 (age 18-30) divisions.
Bee-gak Ee Jang will be added to the Junior (age 15-17) and Senior 1 (age 18-30) divisions.
Bee-gak Sam Jang will be added to the Senior 1 (age 18-30) division.
In addition, it was announced that some of the classic poomsae would be dropped for use in competition and substituted for higher forms:
Taegeuk 4-5 will be removed from all divisions.
Taegeuk 6, 7 and 8 will be removed from Under 30 (age 18-30) and Under 40 (age 31-40) divisions.
Jitae, Cheonkwon, Hansoo, Bee-gak 1, Bee-gak 2 and Bee-gak 3 will be added to Under 30 (age 18-30) division.
Hansoo will be added to the Under 50 (age 41-50) division.
These changes are scheduled to be used at the 2018 Asian Games and the 2020 World Poomsae, Freestyle and Para Championships. [3] [4]
Disambiguation of the name Bigak:
Latest News about the Bee-gak Poomsae:

[

edit

|

edit source

]
November 2017: It was revealed that:
December 2017: The latest information we got this weekend from the WT vice president is that at the 2018 world championships competitors will be able to choose for the traditional (taegeuk, poomsae koryo - poomsae hansu) or modern (bigak 1-3) forms. Starting 2019 the modern forms will be compulsory.
February 2018: Poomsae competition rules will also be updated. Minor technical errors will not be counted anymore, only big errors for erroneous technique. Different judges will score different espects of the performance and those scores will be combined.
April 2018: The introduction of the new Poomsae & Freestyle competition rules have been temporarily postponed until further notice.
Why was this video chosen for use on this wiki? Do you have a better video? Please see Video Guidelines before replacing this video with a better one.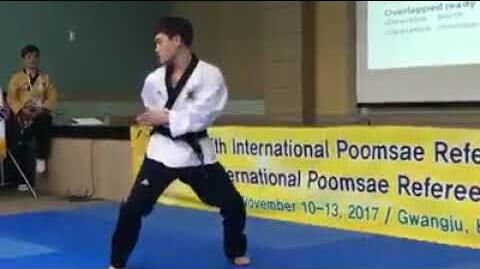 The following diagram is not definitive. It's based only on what can be seen in Kukkiwon's Bigak video. It has not yet been verified against the above (new) video.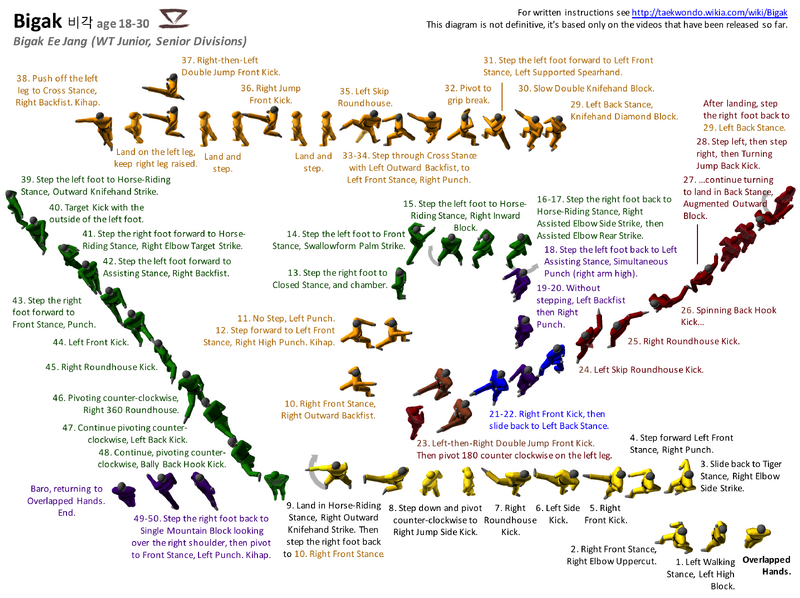 Until we have definitive written instructions for Bee-gak Ee Jang, see the (draft) written instructions for Kukkiwon's Bigak poomsae: Bigak:Written Instructions
Community content is available under
CC-BY-SA
unless otherwise noted.