Several different poomsae have gone by the name Bikkak:
(1) Hanryu and Bikkak (비각, also romanized as Bee-Gak and Bigak) are the names of two forms that were candidates to become new Kukkiwon/WTF-style poomsae somewhere in the ~2007 timeframe. The idea was that these would be forms that could be used in competition. The forms did not become a formal part of the Kukkiwon curriculum however.
Hanryu was intended to be a competition form for older competitors (over age 40)
Bikkak was intended to be a competition form for younger competitors (under age 40). 
(2) In 2016, the idea of having competition-only poomsae was reinstituted. A set of 10 competition poomsae (organized by age groups) was introduced by Kukkiwon at a seminar conducted at the Taekwondowon in September 2016. One of these 10 new poomsae is Bigak, which is similar (but not identical) to the 2007 form Bikkak.
(3) In June 2017, World Taekwondo announced their own set of 3 competition poomsae, which go by the name Bee-Gak Il Jang, Bee-Gak Ee Jang, and Bee-Gak Sam Jang. In November 2017 it was indicated that Bee-Gak Ee Jang would be the same as the 2016 Kukkiwon form Bigak.
Disambiguation of the name Bigak:
2007's Hanryu:

2007's BeeGak: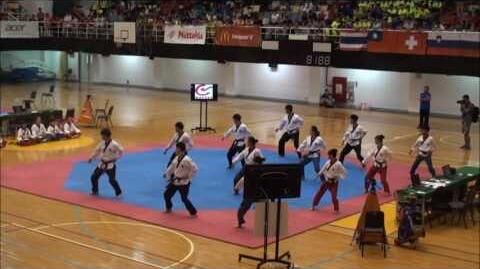 2016's Bigak:
See Also
Edit
References
Edit
https://www.youtube.com/watch?v=FQSIg22wtjE (Hanryu and Bikkak)
Leslie Cheung's post on the Facebook public group "Poomsae USA!" dated 11 November 2017: "Hi everyone, I am current in Gwangju for the poomsae refresher course. There is a lot of new information but I want to share some information on the new poomsae, Beegak 1, 2 and 3. In case you have learned the new Kukkiwon poomsaes, what was known as Beegak (or Bigak) is Beegak 2 from WT's perspective, and Nareusya is Beegak 3. I don't know if Beegak 1 is the same as any of the new poomsae, but I have videos that I can share when I have a chance."
Community content is available under
CC-BY-SA
unless otherwise noted.