Jurassic World: Dominion Dominates Fandom Wikis - The Loop
Play Sound
Chang Moo Kwan (also romanised as Changmookwan) was one of the original martial arts schools ("kwans") that opened in Korea at the conclusion of the Japanese occupation at the end of World War II. It was founded by Lee Nam Suk and Kim Soon Bae.
YMCA Kwon Bop Bu
[
]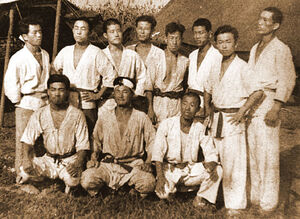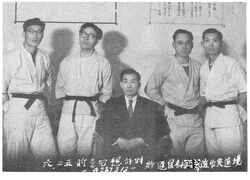 The predecessor school to Chang Moo Kwan was called "YMCA Kwon Bop Bu" (권법무). It was founded in 1946 under the leadership of Byung-In Yoon at the YMCA in the Jong No district of Seoul (also sometimes romanized as Jong Ro). Byung In Yoon had previously studied Chinese Kung Fu (quanfa) during his 8-year stay in Manchuria. In 1937, Yoon enrolled at Nihon University in Tokyo, where Toyama Kanken reportedly taught Shūdōkan karate to Yun in exchange for quanfa lessons. Toyama later included taijiquan in his curriculum for advanced students. Yun became captain of Nihon University's karate team and was awarded fourth or fifth dan (depending on the source) and a master's certificate by Toyama. According to Choi Hong Hi, Yun also taught karate and quanfa on a Tokyo YMCA rooftop.
Yoon returned to Korea in 1945. On September 1, 1946, Yun began teaching kongsoodo and kwonbup at Kyungsung Agricultural High School. Shortly thereafter, he also began teaching at the Yunmookwan and also established his own school, the Kwonbup Bu, at the Jong No YMCA. Yoon later created his own style and called it Kwon Bop Kong Soo Do. Unlike many other post-war taekwondo kwans, early Chang Moo Kwan martial arts wasn't solely based on Karate and included significant amounts of Chinese Kung Fu.
Like his friend Chun Sang Su, Yun disappeared during the Korean War. After the Korean War, Nam Suk Lee and Soon Bae Kim reopened the YMCA Kwon Bup Bu as the Chang Moo Kwan. The Chang Moo Kwan was represented with a symbol of two dragons. In 1956, Yun's students Chul Hee Park and Jung Pyo Hong separated from the Chang Moo Kwan and established the Kang Duk Kwan.
Present Day
[
]
The Changmookwan still exists today as a worldwide fraternity for Taekwondo students and instructors from a Changmookwan lineage. The current president is Grandmaster Kim Joong-Young, a 9th dan holder from Kukkiwon and Changmookwan. Kim is also Vice-Chairman of the Kukkiwon High Dan Promotion Committee.
The Changmookwan issues Dan certification to its members (but by policy will go no higher than one rank above the holder's Kukkiwon Dan rank), along with school membership certificates and individual Master Instructor certificates.
The office address of Changmookwan in Korea is #601 Seokyo Bldg. 395-166 Seokyo-dong, Mapo-gu, Seoul 121-740, Korea.
Derived Kwans
[
]
The following schools were offshoots of Chang Moo Kwan:
See Also
[
]
References
[
]