Kukkiwon/WT Taekwondo uses the following series of forms (called the Yudanja series) for Black Belt forms:
Each of the yudanja forms has a floor pattern that traces out a Chinese character or other symbol. Each character is said to represent a characteristic that should be exhibited by a taekwondo master: wise, unbreakable, spiritual, peaceful, long-lived, pious, adaptable, etc.

천권 (cheongwon) symbolises the sky. This form must exhibit the piety and awe that the sky commands as well as the vitality it sparks in man's imagination, driving him to strive upward. Cheonkwon should demonstrate man's emotions as he looks up from earth and is reminded of an eagle flying off into the clouds.
Why was this video chosen for use on this wiki? Do you have a better video? Please see Video Guidelines before replacing this video with a better one.
Here's a more recent, higher-definition video:
To print the diagram, click on the image and select "See full size image," or right-click and open the image in a new tab.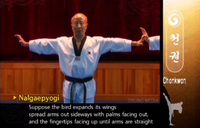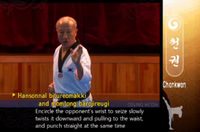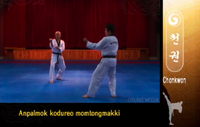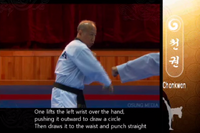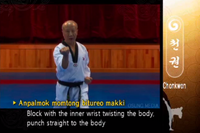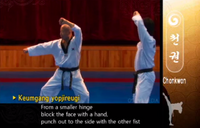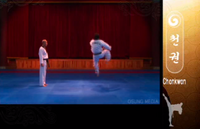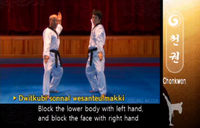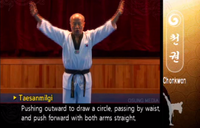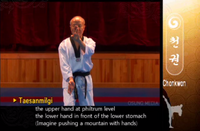 Community content is available under
CC-BY-SA
unless otherwise noted.