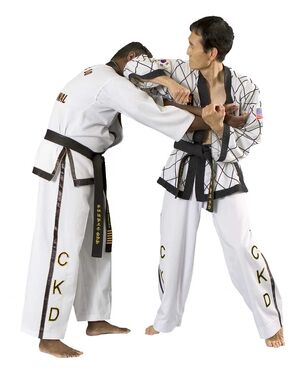 Choi Kwang Do ("the way of Kwang Choi", its founder) is a modern Korean martial art that incorporates aspects of taekwondo. Choi Kwang Do was founded in March 1987 by CHOI, Kwang-jo. Kwang Jo Choi was born in South Korea before emigrating to United States in the early 1970s. Choi was a successful ITF-style taekwondo practitioner and trainer (serving as a chief instructor) before establishing his own style.
Choi Kwang Do emphasizes the use of biomechanics, kinesiology, and psychology in its design. The result is a tendency towards the use of natural bilateral movement and fluid sequential motion to develop optimum force on impact to place less pressure on the joints. The style also incorporates breathing and stretching exercises from yoga.
Community content is available under
CC-BY-SA
unless otherwise noted.