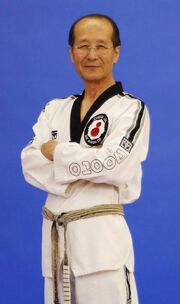 LEE, Chong-soo (19 April 1938 - 5 July 2017) is known as the Father of Canadian Taekwondo. Lee was born in Kae-Sung, Korea. When he was ten years old Lee began studying at Yun Moo Kwan (later Jidokwan) with Chong Soo Lee. Chong Lee moved to Montreal in 1964.
Biography
[
]
Chong Lee was born on April 19 1938 in Korea, the only son of a family of four children. Lee's father was a second degree black belt in judo, and wanted his son to study judo, not taekwondo. When Lee was age 10, against his father's wishes, Lee started to study taekwondo with Chong Woo Lee. Lee's uncle paid for the lessons.
In order to keep his secret, at age 12, Lee also began studying judo, first at home and than in a school. Lee eventually obtained his red belt in judo and would have carried on with judo had his father not discovered his secret. At age 14, after four years of training and two failed exams, Chong Lee earned his black belt in taekwondo. In spite of this success, he still could not bring himself to face his father with this fait accompli. His father learned the truth when Chong was obliged to bring his uniform home to wash it. His father's harsh reprimand was mixed with pride: at that time, very few people earned their black belt at such a young age. Subsequently, his father accepted that Lee abandon judo and focus his efforts entirely on taekwondo.
Lee had another dream: to leave Korea to study engineering in the United-States. This time, he informed his family of his plans. In those days, no one was authorized to leave Korea with more than a 100 dollars cash, making emigration difficult. Once again, without the encouragement of his family, and after long and difficult preparations, Lee succeeded in fulfilling his dreams. Lee left Korea in 1962. He arrived in Washington D.C., where he attended university and worked on improving his English. He took whatever work was available: farmhand, dishwasher, waiter, etc. He spent his free time talking with children who make excellent language teachers. In 1964 a series of circumstances brought him to Chicoutimi Quebec, and in Chicoutimi Lee discovered the hospitality of the Quebecois. Climate aside, Canada enjoys an international reputation for quality of life. Knowing this, Chong Lee settled in Montreal for a fresh start. He studied French and became familiar with Quebec and Canadian culture. Once more he accepted whatever work was available and devoted his evenings to introducing taekwondo to Quebec.
Introducing a new martial art in Canada was not an easy task. Martial arts were almost unknown in western culture, often lumped together and mistakenly identified as Karate in spite of their difference in nature and philosophy. To help clear some of the confusion, competitions were organized where "Taekwondoistes" and "Karatekas" fought each other. As the years passed and Chong Lee' students accumulated victories, Lee and his art conquered the heart of Quebecois. Passing from combat between styles to combats between provinces, his students were the first Canadian champions. In 1977, during the first Canadian championship, Chong Lee's students won gold medals in nine of the ten divisions. This was followed by the Pan-American and the World Championships in the junior and senior categories. With Grand Master Chong Lee as their coach for twenty three consecutive years, the Canadian team boasted of a long list of victories.
See Also
[
]
References
[
]