This form is practiced by the Global Taekwondo Federation (GTF), an offshoot of the International Taekwondo Federation (ITF). After the establishment of GTF in 1990, Park Jung Tae added 6 patterns to the original 24 ITF Patterns. These are Jee-Sang, Dhan-Goon, Jee-Goo, Jook-Am, Pyong-Hwa and Sun-Duk.
Dhan-Goon is named after the founder of Korea. The 23 movements in this pattern represent the first two digits of the year 2333 B.C. when, according to legend, Korea was born. This is Grand Master Park's progressive interpretation of the traditional Taekwon-Do pattern of the same name. [23 moves]
Why was this video chosen for use on this wiki? Do you have a better video? Please see Video Guidelines before replacing this video with a better one.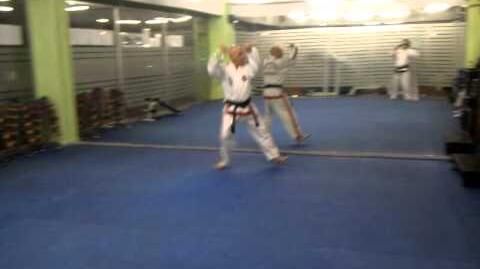 No diagram has yet been added for this technique. You can contribute to Taekwondo Wiki by adding an appropriately licensed diagram.
Written Instructions
Edit
See: http://www.sparkstkd.com/patterns/dhangoon.htm
Placement within the ITF Curriculum
Edit
The GTF forms are placed within the sequence of ITF Patterns as follows:
Colour Belt Patterns
Edit
Black Belt Patterns
Edit
See Also
Edit
References
Edit
Community content is available under
CC-BY-SA
unless otherwise noted.