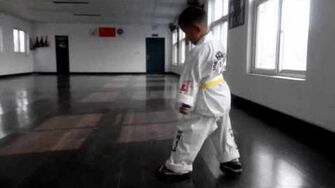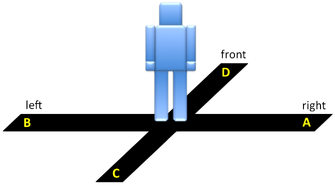 Four Direction Punch (saju jirugi) is the name of a basic exercise used at the white belt level in ITF-style taekwondo.
In each of the following movements, the step that takes place with the foot and the block or punch should both happen simultaeneously, so that the block or punch finishes at the same time as the step.
Finish - Bring the right foot back to a ready stance facing D.
The exercise may then proceed with the same movements in the opposite direction (left punches and right blocks)
There are at least two versions of the exercise:
The primary reference is:
The following websites are also particularly good online references for ITF-style taekwondo:
Community content is available under
CC-BY-SA
unless otherwise noted.