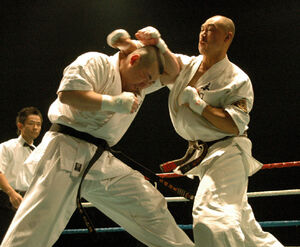 Gwon Gyokdo (also known as Kyuk Too Ki, Kyeok Too Ki, Kun Gek Do, Gyeok Tu Gi, Gweon Gyeok Do, Gwon-gyokdo, or Korean Kickboxing) is a hybrid martial art that combines techniques from both Muay Thai and Taekwondo. The idea is to combine basic Taekwondo kicking with the leg blocks, knee strikes, and elbow strikes that make Muay Thai so powerful. Gwon Gyokdo is a competitive sport in which competitors fight in a ring. Strength-training and body-hardening are emphasized.
Community content is available under
CC-BY-SA
unless otherwise noted.