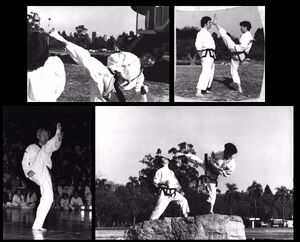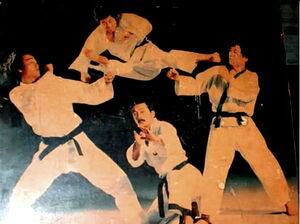 KIM, Han-chang is sometimes referred to as the Father (or one of the fathers) of Taekwondo in Argentina.
Kim started studying taekwondo at the Chung Do Kwan in Seoul under Son Duk-Sung, Um Kyu-Un and Park Hae-Man. Kim received his third Dan in 1966. He became famous for his flying scissors kick in the cover of the second issue of Yudo Karate magazine. Today Kim is ranked as Kukkiwon 9th Dan, is currently semi-retired from teaching activity, but serves as consultant to several organizations.
Taekwondo was introduced in Argentina on June 22, 1967, when three Korean masters (Han Chang Kim, Nam Sung Choi and Kwang Duk Chung) arrived in Argentina. The three arrived on a cargo ship and both Choi and Chung intended to go to Paraguay to start businesses, but Kim convinced them to settle in Buenos Aires instead to start teaching taekwondo. The three men were later joined by Seo Chong Lee, Dae Yang and Chung Moon Chol Jung.
See Also
Edit
References
Edit