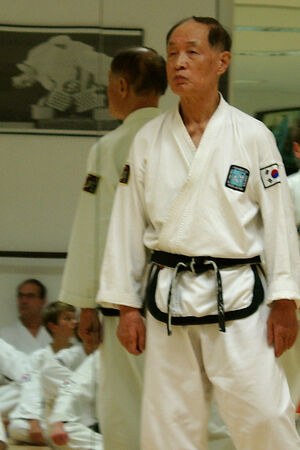 KWON, Jae-hwa (권재화 born 10 January 1937 in Busan, Korea ) is a Korean Taekwondo Grandmaster known for breaking and his lifelong dedication to teaching.
Kwon was born in Pusan Korea in 1937. He was a frail child so, at age twelve, his mother encouraged him to become stronger by studying under the tutelage of Ha Dae-Yong. Kwon completed his Taekwon-Do training under Choi Hong Hi. During his early years, Master Kwon was employed as a reporter for the Pusan Daily News. He put himself through college, receiving a B.A. in Economics. His philosophy of Taekwon-Do is explained in his book, Zen and the Art of Self-Defense, originally published in 1971 by Verlag.
Kwon was chosen by General Choi, in 1965, to be one of the members of the demonstration team of the master instructors to introduce Taekwon-Do to Europe, Asia, and the Middle East. After the mission was complete, Master Kwon remained in Germany where he single-handedly built an International Federation of Traditional Taekwon-Do Schools (Traditional Taekwon-Do Centers e.V. Germany).
References
Edit