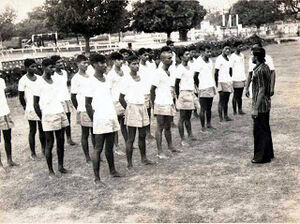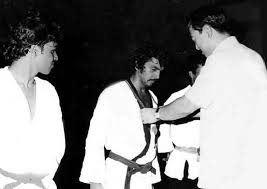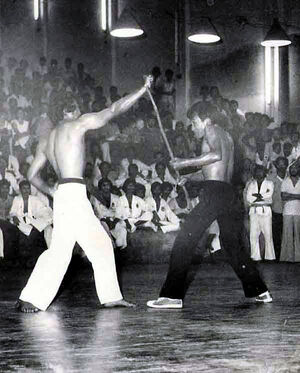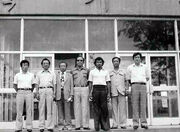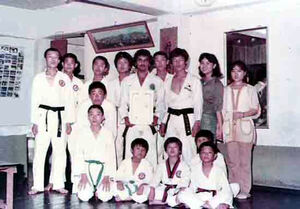 Jimmy R. Jagtiani is sometimes called the Father of Indian Taekwondo. (This title is also attributed to Seong Dong Chang; see History of Taekwondo in India for clarification.) Jagtiani was also the founder of the Taekwondo Federation of India (TFI).
Jagtiani was born and raised in Vietnam where he received a 2nd dan rank from the Oh Do Kwan Academy in Vietnam in 1970. In 1974 the Vietnam war was reaching its most brutal phase and Jagtiani emigrated to his family's homeland in India. Jagtiani settled in Lucknow, India.
In 1975 Jagtiani began teaching taekwondo to police personnel in India. This marked the first taekwondo instruction given in India by a resident of India. On 2 August 1976 Jagtiani formed the Taekwondo Federation of India (TFI) as the first national taekwondo association in India. The TFI marked its first anniversary with a ceremony at the K.D. Singh Babu Indoor Stadium on 2 August 1977. The ceremony was attended by dignitaries such as Korean ambassador Beom-Suk Lee, Babu Benasi Das, and K.D. Singh Babu. At the ceremony Jagtiani was awarded the Ambassador's Medal by Lee. Lee further committed to support the promotion of taekwondo in India and to sponsor Jagtiani's attendance at the World Taekwondo Federation in Korea to receive advanced training. Jagtiani traveled to Korea in 1978 to receive this training:
"In Korea, I received rigorous training under Grand Master Seong Dong Chang from July 1978 to September 1979; [Chang] transformed me into a taekwondo expert; in February 1979 I qualified 3rd dan from Kukkiwon. I own immensely tribute to my Master Chang Seong Dong, who rendered me the most competent guidance and co-operation all [along] the way."
Portfolio: Edit
Grandmaster Jimmy R. Jagtiani, 8th Dan. Edit
Sec. General: International Taekwondo Academy (Korea). 
Sec. General: Taekwondo Federation of India
Mg Director: Taekwondo Academy of India
Grand Master: International Master Instructor, 1982.
Int' Referee: For Asian / World & Olympic level, 1982.
Black Belt: 8th Dan Black Belt
Black Belt: 6th Dan Hapkido
International Technical  Advisor: Kukkiwon
Member: World Taekwondo Leader Forum, Kukkiwon.
1st Indian Grandmaster Inductee in Taekwondo Hall of Fame, USA. 2009.
See Also
Edit
References
Edit