Kukkiwon/WT Taekwondo uses the following series of forms (called the Yudanja series) for Black Belt forms:
Each of the yudanja forms has a floor pattern that traces out a Chinese character or other symbol. Each character is said to represent a characteristic that should be exhibited by a taekwondo master: wise, unbreakable, spiritual, peaceful, long-lived, pious, adaptable, etc.

지태 (jitae) refers to the earth. The earth hides its greatest power deep within its fiery core, occasionally permitting it to well up and shake civilization, reminding mankind of his frailties. This form must show the vigor of life as it stems from the power welling up from strong muscles and a deep, powerful core.
The Kukkiwon video for this form is here.
To print the diagram, click on the image and select "See full size image," or right-click and open the image in a new tab.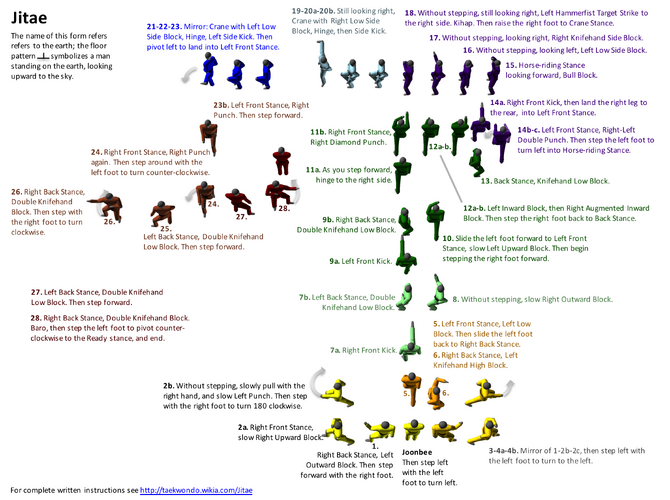 First to the Left (Da direction)

[

edit

|

edit source

]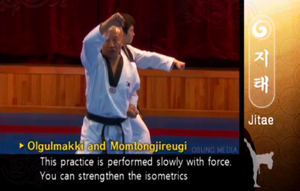 Then to the Right (Ra direction)

[

edit

|

edit source

]
3. Step with the right foot to turn 180 clockwise into Left Back Stance (i.e., right foot forward) and execute a Right Outward Block.
4a. Slowly step forward with the left foot into Left Front Stance and slowly and powerfully execute a Left High Block.
4b. Without stepping, slowly and powerfully pull the opponent with the left hand while executing a Right Punch.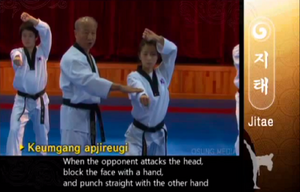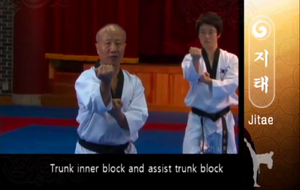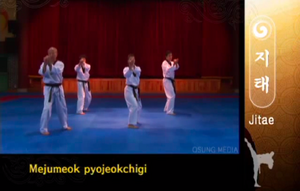 Then Back to Start (Na direction)

[

edit

|

edit source

]
Community content is available under
CC-BY-SA
unless otherwise noted.