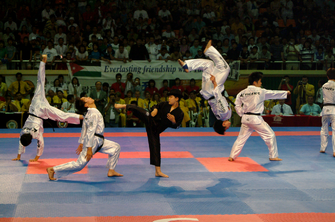 K-Tigers is one of the world's leading taekwondo demo teams. The team was established by Hak Sun An in 1990 in Seoul, South Korea. Their main practice studio is still located in Seoul. The team includes a men's team, a women's team and the "Little Tigers" children's team. In total, there are over 60 members of the team.  
When originally founded, the team's demonstrations tended to focus on just taekwondo and acrobatic tricking. Over time, the team has incorporated more dance and music into their routines as well. In recent years, the musical selection has tended towards K-Pop style music.
Recruiting and Training
[
]
The primary avenue for joining the K-Tigers is via audition, with auditions open to a wide range of ages and belt levels.  You do not need to be a black belt to join the K-Tigers; auditions are open to both children and adults. Auditions occur frequently. Selection is based on potential, rather than current ability. When accepted into the K-Tigers, members transfer from their original dojang to the K-Tigers practice studio.
K-Tigers performances tend to focus on taekwonmu (taekwondo + dance) but in reality day-to-day training consists of all aspects of taekwondo: poomsae, sparring, breaking, self-defense, etc. In addition, there is training specifically geared toward dance and musical ability. In the main studio, adult members practice 8-10 hours per day. Children practice 2-3 hours per day, practicing around their school schedules. 
Organization
[
]
The K-Tigers main practice studio is located in Seoul, but the K-Tigers have also opened a large chain of K-Tigers branded taekwondo schools in Korea, with plans to expand outside Korea. As a corporate entity, the K-Tigers consist of two distinct corporations: an entertainment company focused on film, media production, and live performances; and the chain of K-Tigers branded taekwondo schools. The K-Tigers TV channel on YouTube has 819,000 subscribers, with some videos receiving views in the millions. 
The K Tigers have participated in numerous international competitions such as the World Taekwondo Championship (1993, 1997, 2001), Worldcup Taekwondo Championship (1994, 1996,1997, 2000, 2002), U.S. Open Taekwondo Championship (1992, 1993, 1994, 1995, 1999), Sydney Olympics Taekwondo Demonstration, Busan Asian Games Taekwondo Demonstration, demonstrations at the World Martial Arts Championship held in Paris, France, and tours in the U.S. and Europe. 
Online Interviews
[
]
Post K-Tigers Careers
[
]
Careers in entertainment:
[
]
Also connected to the K-Tigers:
Schools run by former K-Tigers:
[
]
See Also
[
]
References
[
]