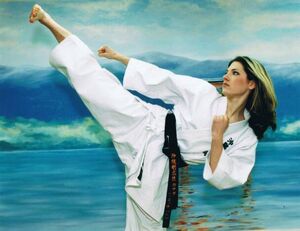 Katheryn Winnick (born Katerena Anna Vinitska; December 17, 1977) is a Canadian actress. She is best known for her roles in Amusement (2008), Bones (2010), A Glimpse Inside the Mind of Charles Swan III (2012), Vikings (2013–present), and The Art of the Steal (2013).
Winnick holds a 3rd Dan black-belt in taekwondo, and a 2nd Dan black-belt in karate:
"...may not know that the beautiful blonde practiced taekwondo when she was younger and even won a silver medal in the sport. Early on Katheryn had to have a lot of talent for the martial arts and at age 13 already had the black belt. 'My family has always been linked to sport. Then the seven years I started to practice martial arts and at 13 was already black belt,' he said.
See Wikipedia (below) for full biography.
References
[
]