This form is a traditional taekwondo form, meaning it pre-dates contemporary forms (such as those used by the ITF, ATA, and WT). In other words, this is a form used during the 1950s within the Nine Kwans that eventually came together to form taekwondo.
Older forms such as this one were often based on forms from other martial arts.
The details and names of these older forms tend to vary more widely from school to school as well.
The version shown here is just one version; the reader should recognize that there will be variations among schools.
Kong Sang Koon (also called Kūshankū (クーシャンク, 公相君), Kūsankū (クーサンクー), or Kankū-dai (観空大)) is an open hand karate kata that is studied by many practitioners of Okinawan Karate. In many karate styles, there are two versions of the kata: Kūsankū-shō and Kūsankū-dai.
The name Kūsankū or Kōsōkun (公相君) is used in Okinawan systems of karate, and refers to a person by the name of Kūsankū, a Chinese diplomat from Fukien who is believed to have traveled to Okinawa to teach his system of fighting. In Japanese systems of karate, the kata has been known as Kankū (translated as gazing heavenward, viewing the sky, or contemplating the sky) ever since it was renamed in the 1930s by Funakoshi Gichin. This kata is also practiced in Tang Soo Do and Traditional Taekwondo.
Due to its difficulty, this kata is often reserved for advanced students. One of its distinguishing features is the jump, which incorporates two kicks. The symbol for this kata is said to be an eagle.
Why was this video chosen for use on this wiki? Do you have a better video? Please see Video Guidelines before replacing this video with a better one.
This diagram is copyright John B. Correljé and is used with permission. Terms and conditions are available at http://sites.google.com/site/tangsoodochonkyong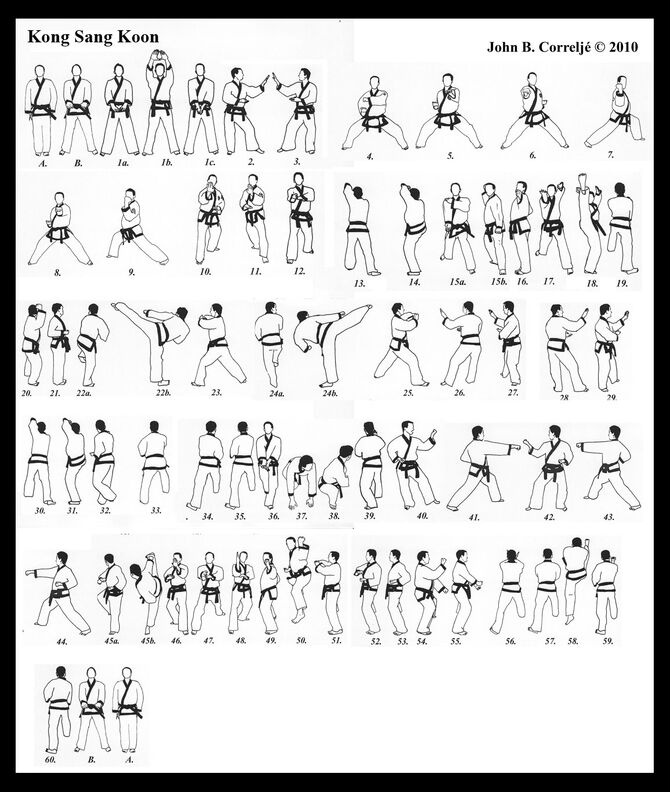 See: http://www.trinityshotokan.com/documents/kanku_dai.html and http://www.trinityshotokan.com/documents/kanku_sho.html
Many of the forms often used in Traditional Taekwondo are included in the following table. In developing his Moo Duk Kwan curriculum, Hwang Kee assigned symbols, listed below, to many of the forms.
Family / Origin
Forms
Basic beginner forms developed by Hwang Kee in 1947.
Later variants of the beginner forms, developed by the World Tang Soo Do Association; these emphasize earlier training in kicking.

Sae Kye Hyeong Il Bu
Sae Kye Hyeong Ee Bu
Sae Kye Hyeong Sam Bu


Pyung Ahn forms, also called Pinan and Heian forms. From Shotokan Karate, developed approx. 1870 as beginner forms. Symbol: The Tortoise

Pyung Ahn Cho-Dan
Pyung Ahn Ee-Dan
Pyung Ahn Sam-Dan
Pyung Ahn Sa-Dan
Pyung Ahn Oh-Dan


Naihanchi forms, from Shotokan Karate. Also called Chul-Gi, Keema, and Tekki. Symbol: The Horse
Bassai forms, Escaping the Fortress, also called Pal-Sek. Adapted into Shotokan Karate but originally from Kung Fu. Symbol: The Cobra

Bassai Sho
Bassai Dai (or simply Bassai)

Adapted from Shotokan Karate. Symbol: The Crane
From the karate form Kūsankū. Symbol: The Eagle
Kong-Sang-Koon
From the karate form Enpi. Symbol: The Bird
Wang Shu (also called Empi)
From the karate form Seisan. Symbol: The Preying Mantis
Sei-Shan
Ji-On forms, adapted from Shotokan Karate.

Ji-On, Symbol: The Ram
Jit-te (also called Ship Soo), Symbol: The Bear

From the karate form Gojūshiho. Symbol: The Tiger

O Sip Sa Bo (also called Gojūshiho)
E Sip Sa Bo (also called Nijūshiho)

Adapted by Hwang Kee from Kung Fu and T'ai Chi.
Chil Sung, the Seven Stars developed by Hwang Kee in approx. 1952

Chil Sung Il Ro
Chil Sung Ee Ro
Chil Sung Sam Ro
Chil Sung Sa Ro
Chil Sung Oh Ro
Chil Sung Yook Ro
Chil Sung Chil Ro

Yook Ro, the Six-Fold Path developed by Hwang Kee in approx. 1958, inspired by the Muye Dobo Tongji.

Yook Ro Cho Dan - Du Mun
Yook Ro Ee Dan - Joong Jol
Yook Ro Sam Dan - Po Wol
Yook Ro Sam Dan - Yang Pyun
Yook Ro Oh Dan - Sal Chu
Yook Ro Yook Dan - Choong Ro
See Taekwondo Forms for additional information.
Community content is available under
CC-BY-SA
unless otherwise noted.