Jurassic World: Dominion Dominates Fandom Wikis - The Loop
Play Sound
Kukkiwon/WT Taekwondo uses the following series of forms (called the Yudanja series) for Black Belt forms:
Koryo (고려) - first dan, also spelled Goryeo and Koryeo ("learned man", symbolizing a wise person)

An older, deprecated form called Original Koryo is also considered by some clubs/associations to be one of the Yudanja forms, but it isn't considered so by the Kukkiwon (for gradings or the Master Instructor Course) or by the WTF (for the World Poomsae Championships).

Keumgang (금강)) - second dan ("diamond", symbolizing hardness, unbreakable)
Taebaek (태백)) - third dan ("sacred mountain", symbolizing spirituality)
Pyongwon (평원)- fourth dan, also spelled Pyeong-won ("open plain", symbolizing peacefulness)
Sipjin (싶진)) - fifth dan, also spelled Shipjin ("eternal 10", symbolizing health and longevity)
Jitae (지태) - sixth dan (symbolizes mankind as the connection between heaven and earth)
Cheonkwon (천권) - seventh dan, also spelled Cheon-gwon ("sky", symbolizing piety)
Hansoo (한수) - eighth dan, also spelled Hansu ("water", symbolizing adaptability)
Ilyeo (일여) - ninth dan (symbolizing the Buddhist concept of oneness of the mind and body)
Each of the yudanja forms has a floor pattern that traces out a Chinese character or other symbol. Each character is said to represent a characteristic that should be exhibited by a taekwondo master: wise, unbreakable, spiritual, peaceful, long-lived, pious, adaptable, etc.

For Koryo (고려), the floor pattern symbolizes "seonbae", which means "learned man." The name of this poomsae memorializes the Koryo Dynasty (918 C.E. - 1392 C.E.) and reflects the indomitable will of the Korean people in the face of extreme adversity. The country name "Korea" derives from the word Koryo (also spelled Goryeo).
Video
[
]
The Kukkiwon video for this form can be found on YouTube here.
Video with Notes
[
]
The following video is a step-by-step demonstration of Koryo, with notes.
Diagram
[
]
To print the diagram, click on the image and select "See full size image," or right-click and open the image in a new tab.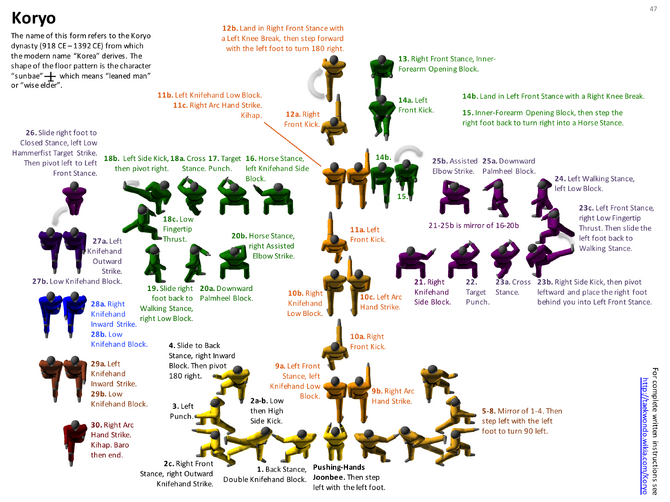 Written Instructions
[
]
FIRST LINE
[
]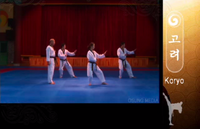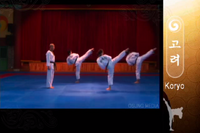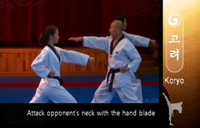 PUSHING HANDS...

From the Ready Stance (joon-bee) with your hands down below your waist, open your hands into a knifehand position (with the hands facing each other, fingertip-to-fingertip, palms up) and slowly raise your hands toward your head.
When you reach chest level, flip your hands over (slowly) so they rise to form a triangle in front of your face (not too high; about mouth-level).
Once in front of your face, push the "triangle" out directly away from your face. Your two hands should be twisted slightly so that your palm is toward your face; in other words, an audience should see the back of your hands, not the palms.
At the same time, slowly rise up on your toes when you first start moving your hands, and then sink back down (feet flat on the ground) as you push the triangle outward.

FIRST GOING LEFT (Da)...
THEN GOING RIGHT (Ra)...
MOVE UP THE MIDDLE
[
]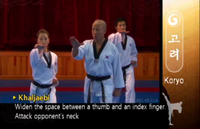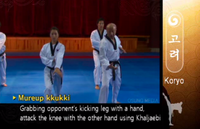 FIRST GOING FORWARD (Ga)...
THEN COMING BACK (Na)...

13. This is a tricky turn: step forward with the left foot to 180 degrees clockwise into a right Front Stance and execute a middle-height Inner Forearm Opening Block.
14a. With the right foot fixed, execute a Left Front Kick then step down into a Left Front Stance.
14b. Knee Break: mirror step 12b - grasp your opponent's calf with your left hand and press down on the imaginary opponent's knee with your right hand
15. Slide the left foot back into a Left Walking Stance (i.e., left foot forward) and execute a middle-height Opening Block (i.e., an Inner Forearm Opening Block).
SECOND LINE
[
]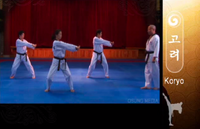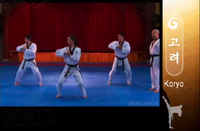 FIRST GOING RIGHT...
THEN GOING LEFT...
BACK DOWN THE MIDDLE
[
]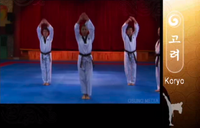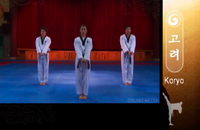 Example Interpretations
[
]
Even though Kukkiwon/WTF-style poomsae are standardized, it is still possible to broadly interpret a poomsae when performing it. As an example, the video below is a very exagerated version of Koryo. While it is technically incorrect in many areas, it serves as as stark example of what we mean when we say "interpret" a poomsae.

Some example of technical inaccuracies in this performance:
This is not to suggest that the performer is not talented; this performance was clearly exaggerated intentionally, as part of a special event (and clearly required strong athleticism). The lesson is: it is possible to perform standard poomsae in very non-standard ways as a method of personal interpretation (though generally speaking, extreme interpretations such as this one would not score well in a conventional poomsae competition).
Another Example
[
]
Here is another very unique interpretation.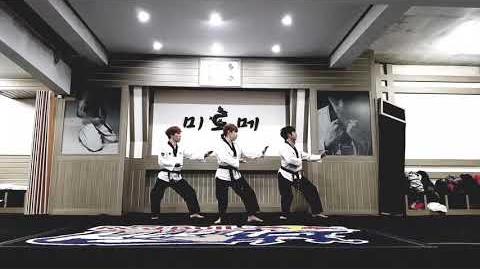 In this version, chambers have been almost entirely eliminated in favor of very-fast combinations.
References
[
]