There are a lot of rumours circulating the internet these days about the introduction of new competition forms. The last was a series of ten new poomsae for various age categories. The latest information comes from the WT General Assembly of June 23rd 2017[1] and it states the removal of lower taegeuk, addition of higher poomsae and introduction of poomsae Bee-gak 1-3 plus the consolidation of the U60, U65 and 65+ divisions into one 50+ division.
Taegeuk 4-5 will be removed from all divisions.
Taegeuk 6, 7 and 8 will be removed from Under 30 (age 18-30) and Under 40 (age 31-40) divisions.
Jitae, Cheonkwon, Hansoo, Bee-gak 1, Bee-gak 2 and Bee-gak 3 will be added to Under 30 (age 18-30) division.
These changes are scheduled to be used at the 2018 Asian Games and the 2020 World Poomsae, Freestyle and Para Championships.
Further more 2 new poomsae events will added to the tournament list, the Beach Poomsae Championships which were first held in Rhodos, Greece this year and the World Open Poomsae Championships.
2016 ATU / Kukkiwon Poomsae
[
edit
|
edit source
]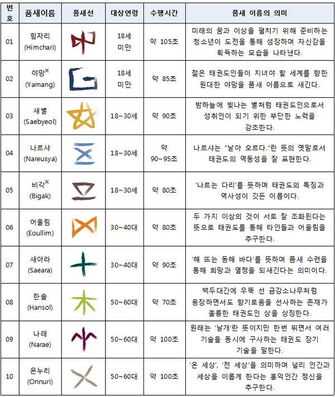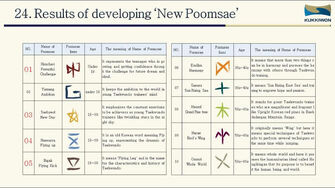 In September 2016 the Kukkiwon and the Asian Taekwondo Union announced the development of ten new poomsae to be used in taekwondo competitions. The ten new forms are:
The idea is that during the initial rounds of tournament poomsae competitions, athletes will compete using the conventional Kukkiwon curriculum poomsae; but then for the final rounds, athletes will compete using these more difficult poomsae. The added difficulty will make it easier for judges to distinguish between the performances of top-rank competitors.
Note that a similar effort was previously undertaken in 2007 with the development of the forms Hanryu and Bikkak; those forms were never officially rolled-out however.
In June of 2017, World Taekwondo in conjunction with Kukkiwon unveiled and demonstrated the new competition form sets at the 2017 Muju World Taekwondo Championships held between June 24 to June 30, 2017. Currently there are plans to conduct some seminars to formally present the forms and applications, most noteably in October 2017 just prior to the World Taekwondo Presidents Cup in Las Vegas, Nevada.
Community content is available under
CC-BY-SA
unless otherwise noted.