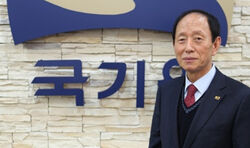 JUNG, Man-soon was appointed new President of Kukkiwon at the 2014 First Extraordinary Board Meeting in February. The fifteen board members who attended the meeting voted unanimously for Jung, who had been acting President of the organization since January 6th, after the resignation of Lee Kyu Hyung on December 31st 2013.
Jung, who was born in 1945, has served for decades at the Chungju University as a physical education professor and also as Dean of the college of education. He has been Technical Chief at the Asia Taekwondo Union, Director of operations at the Korean Taekwondo Association, coach of the Korean National Team at the 1977 World Taekwondo Championships, head coach of the Korean National Team at the 5th World University Taekwondo Championships, head of the Korean National Team at the 2011 Gyungju World Taekwondo Championships, etc., and is currently serving as President of the Choong-Buk Taekwondo Association.
Community content is available under
CC-BY-SA
unless otherwise noted.