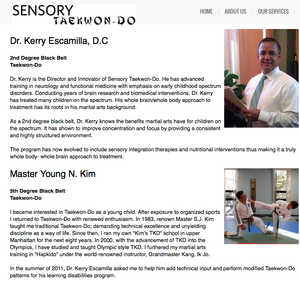 The term Para-Taekwondo specifically refers to a type of Sport-style (i.e., WT-style) taekwondo in which competition rules have been established in order to accommodate fair competitions among athletes with disabilities, specifically within the Paralympics.  For ITF-style taekwondo, the similar term is Special Needs Taekwondo, which is geared toward the Special Olympics. Similarly, for Jhoon Rhee-style taekwondo, the term Adaptive Taekwondo is used for Special Needs students.
Taekwondo as an Inclusive Martial Arts
Edit
Generally speaking, taekwondo tends to be a very inclusive martial art: various schools tailor the art for younger students, older students, disabled students, etc. Essentially all of the major taekwondo associations are affiliated with special needs training in one way or another. On the other hand, some martial arts schools tend to be more exclusive, focusing their training only on those who are very physically fit. Taekwondo is sometimes criticized for its inclusivity (the so-called, "Could you win a bar fight?" argument) but generally those involved in taekwondo view its inclusivity as a strength.
Background: Paralympics vs. Special Olympics
Edit
Disability Categories: Both the Paralympics and the Special Olympics adopt disability categories to divide athletes into groups based on similar disabilities. The two organizations used different disability categories however. The focus of disability categories is generally on the functional consequence of the disability, rather than the underlying cause. For example, vision-impaired athletes would be put in the same category, regardless of the underlying medical cause of the impairment. Athletes within a category are further grouped by the severity of the impairment.
Focus: The focus of the Special Olympics is intellectual disabilities rather than physical disabilities, though athletes with both may participate in the Special Olympics. Conversely, the Paralympics encompasses a broader array of disabilities from six main categories: amputee, cerebral palsy, intellectual disability, visually impaired, spinal injuries, and Les Autres (a category that includes all other conditions that do not fall into the previous categories).
Participation: The Special Olympics does not exclude any athlete based upon qualifying scores, but rather groups the athletes based on those scores for fair competition against others of like ability. On the other hand, to participate in the Paralympic Games, athletes have to fulfill certain criteria and meet certain qualifying standards in order to be eligible. These criteria and standards are sports-specific and are determined by the International Paralympics Committee (IPC) Sports Chairpersons, the Sports Technical Delegates and the relevant international sports organizations.
WT Para-Taekwondo
Edit
In 2005, World Taekwondo (WT) formed the Para-Taekwondo Committee in an effort to develop and promote Taekwondo to athletes of all disabilities. On October 16, 2013, WT became an International Paralympic Committee (IPC) recognized International Federation (IF), a recognition of the ongoing work to develop Para-Taekwondo. In January of 2014 WT submitted a letter of intent to the IPC to apply for para-taekwondo to be on the 2020 Paralympic Program. 
Unlike the Olympics which includes only one taekwondo discipline (sparring), WT conducts Para-Taekwondo competitions in two disciplines: Kyorugi (sparring) and Poomsae (forms). Disability classifications are referred to as Classes. Classes competing in Kyorugi have a "K" prefix. Classes competing in Poomsae have a "P" prefix. The following Classes are used for Para-Taekwondo:
| Impairment | Class | Competition |
| --- | --- | --- |
| Visual Impairment | P10 | Poomsae |
| Intellectual Disability | P20 | Poomsae |
| Physical Impairment | P30 | Poomsae |
| Limb Deficiency / Impaired Muscle Strength (LD/Prom) | K40 | Kyrorugi |
| W/C Classes | P50 | Poomsae |
| Deaf | KP60 | Kyrorugi / Poomsae |
| Short Stature | P70 | Poomsae |
Within each major 10s-digit Class category, the 1s-digit is then used to describe the specific impairment. For example the K40 sparring-class is further subdivided as follows:
ITF Special Needs Taekwondo
Edit
Want to contribute to taekwondo wiki? We need an author who has good knowledge of the ITF Special Needs program to write this section.
References
Edit
Community content is available under
CC-BY-SA
unless otherwise noted.