The Protocol of Accord is an agreement between the World Taekwondo (WT, formerly WTF) and one of the three International Taekwon-do Federations (ITF, specifically the Austria-based ITF lead by Chang Ung). The primary effect of the agreement is to allow WT and ITF athletes to more easily compete in each other's tournaments, and to make it practical for ITF athletes to compete at the Olympic level.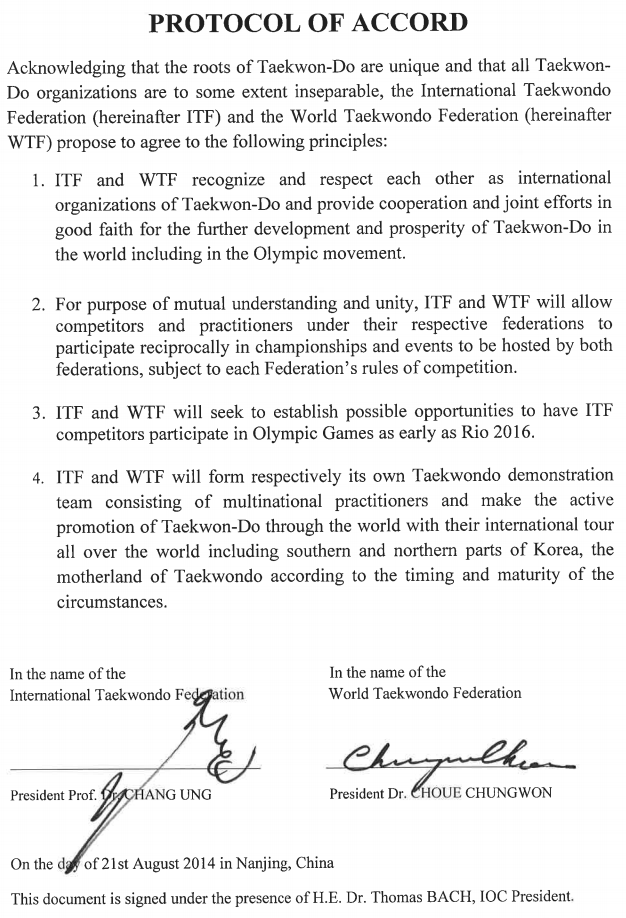 Timeline
Edit
1980 - the International Olympic Committee (IOC) recognizes WTF as the governing body for Olympic taekwondo
1982, January - talks are initially held between the WTF and ITF in Vancouver, Canada regarding potential integration
2002, August - former WTF President Un Yong Kim meets with ITF President Chang Un in Monaco to discuss potential taekwondo exchanges
2003, August 20 - the WTF and ITF announce a mutual agreement regarding the desirability of integration
2005, June - during a meeting at IOC headquarters, WTF President Choue and ITF President Chang agree to establish a committee to discuss integration plans, arbitrated by then IOC President Jacques Roggea
2006, December 2 - WTF and ITF sign a memorandum of understanding (MOU) in Doha, Qatar; the MOU calls for the formation of a coordination committee to discuss integration of WTF and ITF
2007-2008 - the Taekwondo Integration Coordination Committee meets five times (the last time in Beijing, China in September 2008) to discuss integration
2014, August 21 - the Protocol of Accord is signed in Nanjing, China during the 2nd Youth Olympic Games, overseen by IOC President Thomas Bach
2015, May 12-18 - for the first time, an ITF demonstration team attends the WTF Championships held in Chelyabinsk, Russia
References
Edit
Community content is available under
CC-BY-SA
unless otherwise noted.