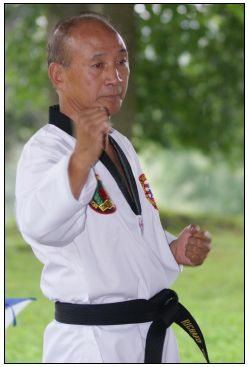 Dr. Richard Chun ( - November 2017) was the president of the United States Taekwondo Association and author of several taekwondo texts, including co-authoring (with Doug Cook) Taekwondo Black Belt Poomsae - Original Koryo and Koryo. Chun held the rank of 9th dan and was inducted into the Taekwondo Hall of Fame in 2004.
Chun's biography from his book Original Koryo and Koryo:
Grandmaster Richard Chun, a 9th dan black belt began his formal martial arts education under the direction of Ki Whang Kim and Chong Soo Hong at the famed Moo Duk Kwan or "Institute of Martial Virtue" in Seoul, Korea. By age fourteen, he received his first dan black belt. Following the outbreak of the Korean War, his family moved to Cheju Island where he attended high school. In 1954, at age nineteen, he returned to Seoul. Once there, he enrolled in Yonsei University and graduated in 1957. While at the university, he served as captain of the taekwondo club and participated in several competitions. Entering the United States in 1962 as a student, he lived in Washington, DC and began studying for his Master's Degree in Business and Marketing at George Washington University.
In 1964, with the assistance of past-WTF president Dr. Un Yong Kim, he officially established the Richard Chun Taekwondo Center, a school that has cultivated champions, such as Joe Hayes, and catered to movie stars and sports figures including Ralph Macchio (The Karate Kid), and dancer/actor Gregory Hines. The Richard Chun Taekwondo Center became a mecca for many practitioners both locally and worldwide. During the same time period, with the help and support of General James Van Fleet, he created and organized the first Annual Universal Taekwondo Open Championships. Richard Chun earned his MBA at Long Island University. He eventually went on to obtain a Ph.D., becoming a professor of health and physical education at Hunter College in New York City.
In 1973, Grandmaster Chun was appointed head coach of the USA Taekwondo Team, leading them to a second-place victory in the first World Taekwondo Championships held in Seoul, Korea. He has traveled and lectured extensively at martial arts schools around the country as well as appearing on many popular television talk shows. He went on to establish the United States Taekwondo Association in 1980, an organization whose mission it is to promote the ancient and evolving art of taekwondo, and currently he serves as its president.
Dr. Chun played a major role in organizing taekwondo as an event in the Olympics and has served as Senior International Referee at international championships and Olympic competitions. For his many achievements in promoting taekwondo within the borders of the United States, he received the Presidential Award from the president of Korea. In 1999, following a training and cultural tour of Korea, he was named Special Assistant to the president of the World Taekwondo Federation. He has also received many citations over the years from the Moo Duk Kwan and World Taekwondo Federation.
Grandmaster Chun shares his knowledge of taekwondo through the written word with five best-selling books to his credit, all of which have been translated into several foreign languages. All are used as reference guides by thousands of practitioners and schools worldwide. Dr. Chun has also produced a number of instructional DVDs on self-defense, sparring, and forms, available through the United States Taekwondo Association website and YMAA Publication Center of Wolfeboro, NH.
Richard Chun has been a member of the Lions Clubs International for more than four decades where he has served as District Governor of New York. He was appointed Ambassador of Goodwill by the Lions Clubs International Association for his humanitarian services worldwide and has been repeatedly honored by the president of Korea for the same. With two children both pursuing successful careers of their own, Dr. Chun his has been happily married for over thirty-five years.
Community content is available under
CC-BY-SA
unless otherwise noted.