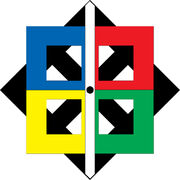 The American Taekwondo Association (ATA) practices Songahm-type forms (poomsae). The lines of these forms are all organized around the Songahm Star. Being a franchised corporation, these forms are copyright ATA and so are rarely documented outside official ATA publications -- typically PDF documents that describe the form. Fortunately, these PDF files are fairly easy to find via an Internet search. The link below provides the PDF for this form.
Download Songahm 3 Sahm-Jahng (PDF)
Video
[
]
Why was this video chosen for use on this wiki? Do you have a better video? Please see Video Guidelines before replacing this video with a better one.
Songahm Color-Belt Forms
[
]
See Also
[
]