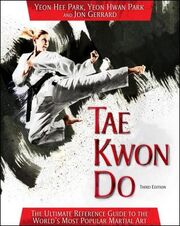 Book Title: Tae Kwon Do: The Ultimate Reference Guide to the World's Most Popular Martial Art
Authors: Yeon Hee Park, Yeon Hwan Park, Jon Gerrard
Taekwondo Style: WTF Taekwondo
ISBN: 978-1626364257
Amazon: http://www.amazon.com/Tae-Kwon-Do-Ultimate-Reference/dp/1626364257
Summary Recommendation: This book lacks the same pedigree as Lee & Kim's Complete Taekwondo Poomsae (authored by a former Kukkiwon president) or Lee & Ricke's Official Taekwondo Training Manual (which is endorsed by Kukkiwon), but it does have two good things going for it: (a) it's endorsed by the World Taekwondo Federation, and (b) it's beautifully illustrated with full-color photographs. If you could have only one taekwondo reference book in your library, this would be a credible candidate, though arguably without a Kukkiwon endorsement this book is an excellent "second book" to have in your taekwondo library.
Description
Edit
From Amazon: Tae Kwon Do is more than just a fighting style: it combines self-defense, exercise, meditation, philosophy, and self-awareness to improve oneself physically, mentally, and spiritually. Over 400 million students in more than 188 countries have embraced the way of life that Tae Kwon Do provides. Tae Kwon Do, Third Edition combines a complete explanation of the physical aspects of the martial art with a full description of the philosophical elements of its training. It is perfect for both students trying to master techniques and teachers looking for a reliable reference. The authors believe that the true essence of Tae Kwon Do cannot be seen, touched, smelled, tasted, or heard, but only experienced. This book will guide students as they figure out what Tae Kwon Do means to them.
Community content is available under
CC-BY-SA
unless otherwise noted.