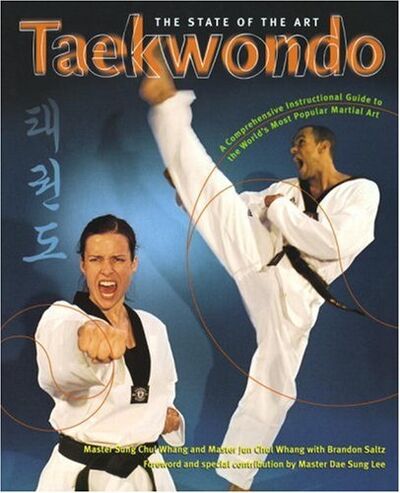 Book Title: Taekwondo: The State of the Art
Authors: Sung Chul Whang, Jun Chul Whang, Dae Sung Lee, Brandon Saltz
Taekwondo Style: WTF Taekwondo
ISBN: 978-0767902144
Amazon: http://www.amazon.com/Taekwondo-Master-Sung-Chul-Whang/dp/0767902149
Summary Recommendation: This is a good book, but if you're only going to have one taekwondo reference book in your library, this is not the one to have. Having been published in 1999, the title is nowadays a misnomer as well. Where this book excels in the ancillary information, such as the chapter of taekwondo history. If you can afford only one book, you're better off with Lee & Kim's Complete Taekwondo Poomsae or Lee & Ricke's Official Taekwondo Training Manual. Still, this isn't a bad book to have in your library. Since it's usually only available in used bookstores (typically for about $5) it's worth adding to your library just for the ancillary information.
Description
Edit
Table of Contents:
History of Taekwondo
Philosophy of Taekwondo
Warming Up
Stances
Steps and Footwork
Blocks
Hand Strikes
Kicks
Sparring
Poomsae
From Amazon: No description.