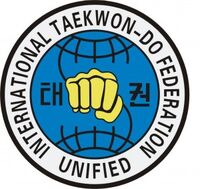 The Unified International Taekwondo Federation (UITF) was formed by Hwang Kwang Sun in 2004.
According to the UITF website, on his deathbed Choi Hong Hi chartered Hwang Kwang Sun with reunification of taekwondo:
"I have always worried about a successor to the president, however, my mind is set at ease for there is Mr. Chang Ung.
"Mr. Hwang Kwang Sung, your duty is very big and important as a spokesman and the Chairman of the Merger Committee. It was my wish to merge the Taekwon-Do into one. Please get on your own duty responsibly."
To understand the context of the above quotation, note that previously the International Taekwon-do Federation had split into three organizations during the 2001 timeframe (see main article: International Taekwon-do Federation). The UITF was established by Hwang Kwang Sun to reunify the ITF.
From their website: "The Unified ITF provides a central resource and community around General Choi's legacy providing educational seminars, workshops and certification. The Unified ITF also provides international competitions, continental championships and Open World Championships to showcase authentic Taekwon-Do and to foster goodwill among compatriots in the art."
Mission Statement
Edit
From the UITF Facebook page:
The UITF is an International organization that offers membership to ITF members who wish to remain separate entities but still wish to have access to ITF Grand Masters. Also to offer membership to non ITF Chang Hon style groups. Maintain continuity of ITF's hierarchical rank structure by testing, confirming and/or certifying high ranking black belt promotions above 6th Dan.
Offer high black belt certificates signed by ITF Grand Masters. Insure no duplication of black belt certiciate numbers. Offer one Grand World Championships for all ITF organizations. Offer special seminars on, but not limited to, the history of TaeKwon-Do. Celebrate General Choi's Annual Memorial under one ITF unified.
Synopsis of Objectives:
To carry out the Legacy of the Founder of TaeKwon-Do, General Choi Hong Hi
There must be only one TaeKwon-Do
There must be only one ITF
To merge TaeKwon-Do and all other TaeKwon-Do organizations
Build our original TaeKwon-Do as General Choi created
Build on and open communications with the World Taekwondo Federation
Build on and open communicatoins with the International Olympic Committee
To exclude all politics from TaeKwon-Do
Exclusion of the politicians within the ITF
ITF should be run by Martial Artists
To refine TaeKwon-Do promotions
Banning of all illegal promotions
Keep members pride - centralize certification to improve ITF operations on:

Uniforms
Certification fees
Retirement fund
References
Edit
Community content is available under
CC-BY-SA
unless otherwise noted.