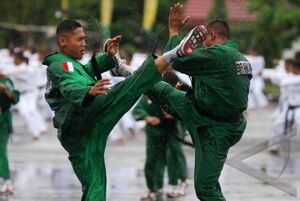 Yongmudo (also spelled Yongmoodo, Yong Moo Do) is a modern, hybrid martial art that was developed in 1998 by sports scientists at Yong-In University in Korea. Yongmudo combines kicking techniques from taekwondo, grappling and throwing techniques from hapkido, throwing techniques from judo, and wrestling techniques from ssireum.
Yong In University is a private university located in Samga-dong, Cheoin-gu, Yongin-si, Gyeonggi-do, South Korea. The school opened as Korea Judo School in 1953 under the founding slogan of "Be the one who contributes to society through moral cultivation." It was commissioned as a four-year undergraduate school in 1971 and changed its name to Korea Physical Science College to the current name, Yong In University in 1993. Started as a physical education college, it is a private university with 35 departments for both day and night sessions in the six colleges: Martial Art, Physical Science, Culture and Art, Business Administration, Environmental Science and Health and Welfare. The university has established seven special graduate schools in Education, Physical Science, Art, Business, Rehabilitation and Health Science, Taekwondo, Cultural Asset and one general graduate school with eight subordinate organizations including the Central Library and 18 affiliate organizations.
Since the establishment of Yong In University's Martial Arts Research Centre in 1982, there had been significant focus on developing a new dynamic system combining combat, self-defence and health enhancement techniques and training methodology based on up-to-date scientific findings of human performance, especially through physiology, kinesiology, biomechanics and psychology. The Martial Arts College of Yong-In University formally announced on October 15, 1998, the creation of a new martial arts discipline, known as Yongmoodo.
The main offensive and defensive techniques of Yongmoodo include throwing, grappling and ground techniques from Judo, slamming and holding down from Wrestling, kicking, striking, thrusting, punching and blocking from Taekwondo, Kumdo and Kerkki, and joint locking from Hapkido.
References
[
]